1. Most People Are DJs -...
Features great alternative/indie music, mashups, and surprise meida clips. Plus, short reviews of comic books, movies, TV and more!


2. The Deli Magazine - Indie from NYC -...
The Deli Magazine is a free publication/website exclusively focused on bands and artists from the big apple. Check out our website here www.thedelimagazine.com.


3. Mute Station -...
Mute Station presents an irregular sequence of transmissions from the London headquarters of Mute Records.


4. The Sounds in My Head -...
a weekly music show, featuring songs and bands you might have missed. with an occasional undertone of radical left-wing propaganda. go team.


5. Anti-Hit List Podcast -...
John Sakamoto's weekly critical look at the best new music outside the mainstream, with music clips and full downloads. Produced by the Toronto Star, Canada's largest newspaper. http://www.thestar.com/antihitlist


6. VGDJ: The Official OverClocked ReMix Podcast -...
Bringing you the world of video game music remixes, inspired by the video games of yesterday and today.


7. Radio Free Cruze -...
The absolute CREAM OF THE CROP of independent music, Alternative, Rock, Dance, Pop, Hip-Hop, and anything else that sounds great1 There's also games and contests to text your knowledge and skill of really unimportant things. Plus Cruze's incoherent ramblings about life, love, the music biz, movies, tv, comics, games, cigars, politics, and anything else that happens to be on his mind!


8. TRAEXS.COM Podcast -...
music podcast from the traexs.com music and video directory playing creative commons licensed free music. free download areas with music to listen and use.


9. Republic Of Avalon Radio -...
Newfoundland''s first podcast. A weekly dash of everything, with your host, singer/songwriter, musician, record producer and ham radio operator, Jim Fidler.


10. Ze robot -...
Ze Robot podcast music mixes and geek news, from indie rock to electro pop - the new and the not so old, from Montreal.

Url: http://www.mcturgeon.com/blog/archives/podcast/index.html
Feed: http://feeds.feedburner.com/vudici


11. Insomnia Radio: Powered by iPodio -...
Leading the new revolution in internet radio, this weekly podcast consistently delivers indie rock''s unsung heroes straight to your mp3 player, in a tightly produced one hour package. What makes Insomnia Radio different than anything you''ll hear on your FM dial? Simple. We bring you new music that is new to us as well! If we don''t fall in love with it, you won''t hear it. So, Kill Your FM and tune in to the best music you''ve never heard.


12. Closet Deadhead -...
Do you own hundreds and hundreds of hours of Grateful Dead music but don't feel like you quite fit into today's society? This podcast is for you. Lots of great Grateful Dead music, interviews, comedy and fun. Join us for Closet Deadhead!


13. DavidCMusic.com music -...
DavidCMusic.com music (latest 20, MP3, enclosures)


14. Getting a Leg Up -...
Music, culture, and exotic Asian soundscapes in English and Chinese!


15. Illumination Audio -...
Are you tired of the same 14 songs over and over again?

Of course you are.

Are you tired of crap music that gets away with poor production, and horrible musicianship because they call themselves "Indie?"

We are too.

Then come down and visit us at illumination Audio. We provide the best independent music. No fillers, no clones, and a diversity that appeals to everyone.

It''s radio as it should be, only it''s not radio. It''s Illumination Audio.


16. Hello Cruel World -...
A radio show devoted to singer/songwriters, sundays from 5-6pm on KPSU in portland oregon.


17. iPod Nirvana -...
Each week, the iPod Nirvana podcast highlights some of the best free and legal indie, alternative, punk, and electronic downloads from around the internet.

Visit ipodnirvana.com to find even more free and legal music downloads every day.


18. The Cambridge Music Podcast -...
I - like you - know that there is a massive amount of musical talent in this little city of ours. There is also a massive amount of people that want to hear it. The solution is this 'podcast'. An mp3 broadcast released onto the internet every week containing the best in cambridge independant music!


19. Revolution Radio -...
Revolution Radio on the Foxholeunderground


20. IndiePodcasting.com -...
IndiePodcasting.com is a new service devoted to promoting unsigned and indie artists using podcasting technology. We also provide content to fellow podcasters.


21. Live From The House -...
Podcast for House Of Gigs. Live stream on Tuesday nights 8-9pm EST. Listen for indie and local band interviews, music, and news. Join us via Skype (user Id: houseofgigs) during the show.


22. AltCountry''s Kyle Brady and the Wooden Earth -...
Enjoy the best new Ya''llternative.


23. Post Modern Rock Show - Friday nights at 7 on KPSU -...
The best new indie along with classic alternative. Occasional artist interviews. Hour-long show.

Airs Friday nights at 7 on KPSU, 1450 AM in Portland, worldwide at www.kpsu.org. On-demand and podcasted at www.postmodernrock.com.


24. De-Fi Radio -...
Tired of the same old, cookie cutter, boring FM crap?
Well the defy your radio.
And listen to De-Fi Radio.

A proud member of the Association of Music Podcasting (AMP).


25. Em P Me >> a music blog -...
Em P Me is a music blog that podcasts it''s daily posts. Along with the daily songs and commentary, every Sunday I produce an hour long music show that goes up on the site. The content focus'' mainly on independent music of all shapes, sizes and sounds. Genres include, but aren''t limited to: indie, idm, punk, rock, alt-folk, emo, hardcore, and more.


26. Each Note Secure -...
Woot! Indie music and quality music from the best. Also local info from the Cincinnati area......


27. Not Your Usual Bollocks -...
Alternative music direct with a distinct UK flavour, served up direct from London. Focus is on cutting edge electronic and alternative rock and artist interviews. Not your usual bollocks....because mainstream radio is sh*t.


28. Radio ZooStation -...
Radio ZooStation è il podcast del sito www.zoostation.splinder.com . Oltre a trasmettere gli articoli della redazione del nostro blog trasmettiamo musica Podasafe,im particole gruppi di alternative music.


29. BK-PodCast -...
Original music and poetry by Arthur Durkee, composed and read by the author. Features readings of the ongoing Road Journal, a record of changes, by a nomadic visionary creative artist, musician, and writer. Each chapter is recorded in a different acoustic space, and treated with filters, processing, and editing, using chance methods. The process converts the written text into text/sound poetry. The Road Journal also exists in its original written form on the website, illustrated with photos from the journey. All original music composed and performed by Arthur Durkee. Copyright 2005, All Rights Reserved.

Average update time: weekly or more often

Average file size and duration: 5-15mgs (high quality audio), 5 to 15 minutes


30. CMJ/Rock Hall Music Fest podcast -...
CMJ/Rock Hall Music Fest Presented by the Ohio Lottery, is a major, three-day, four-night music event where thousands of music fans and artists will converge on Cleveland to celebrate today''s best new music.

31. Radio Zero -...
Rick and Rose started Radio Zero back in 1998 to fill the time between tours with their band Poster Children. After a short stint on a Champaign, Illinois radio station, they''ve returned to their basement studio to talk about music, movies, parenthood and politics with each other and the occasional guest. Recent guests include Alex Borstein, Mac McCaughan, Steve Albini, and Ian McKaye. www.radiozero.us


32. Absolutely Kosher Records Podcast! -...
The latest and greatest from bay area indie label. Listen as proprietor Cory Brown explains life's little idiosyncracies and quirks. He also plays a ton of cool music.


33. Bluno.org -...
Indie, punk, and lots of surprises.


34. Free Radio Sub Pop -...
Free MP3 Downloads from Sub Pop Records.


35. Podcast NYC - Alley Cuts -...
A 30 minute show featuring unsigned (and unsung) bands and artists from the New York City area.


36. Whole Wheat Radio Independent Music Podcast -...
A blog and podcast associated with the Whole Wheat Radio indie music webcast originating in Talkeetna, Alaska.


37. 30 Million People -...
Russ and Rich introduce a selection of the best independent and unsigned music.


38. nedfodder -...
An eclectic selection of music from around the world.
- Guest DJ's.- Live Acts -
Hip hop / Funk / Soul / Rock 'n' Roll / Trip Hop


39. ShitFM -...
Caz brings you independent music from around Australia in easy to digest 30 minute capsules.


40. ACOWO -...
Introduction of High Quality Netlabels


41. Lime Podcast -...
Trip hop meets J-Pop meets vinyl. Broadcast weekly on SURGE (http://www.surgeradio.co.uk/shows/lime) as well as on podcast.


42. FreakNLost MP3 Podcast -...
84 mp3 tracks from never released demo''s from 1989-2005 of Oklahoma based band FreakNLost. All at 192kbs 44hz stereo.


43. H Pisces - Waste Some Time -...
Sampler from the H Pisces album 'The Attraction of Innocence'


http://hpisces.com

44. the Ruy Lopez show -...
James and Jay -- brothers-in-law -- play chess, pick a few songs and talk about life. Features a five-year-old''s joke of the week, Antarctic Anecdotes, and the occassional chess tip. We play chess so you don''t have to. But don''t be intimidated, we''re not that good at chess.


45. PMC Top10 Countdown -...


The PMC Top10 is a weekly countdown show featuring the top tunes being spun by podcasters. The PMC Top10 has something for everyone!

Listeners: Tune in for some of the great music being discovered on awesome podcasts.

Podcasters: Tune in to find the awesome tunes that your fans want to hear. Then spin them on your show... watch the accolades roll in!


46. Sofamecca -...
Listen to selected tracks from Australian band Sofamecca. New album ''Commuters'' out now. Visit www.sofamecca.net for details.[b]


47. The Captain SIB Podcasts -...
We are here to help support independent musicians and find new fans for their music.In this competitive world it is an almighty task to hit every part of the cyber land, that is why you, the listener, are an important part in helping Captain SIB reach larger audiences.



48. The Songwriters Internet Radio Show -...
The Songwriters Internet Radio Show! Hosted by Rich O''Brien


49. TheMusicNeverStopped -...
Covering The Jam Band Scene


50. Afterglow -...


A music podcast shedding light on musical acts best listened to after dark.

Presented by John P Shea and guests and sent personally to you from the good folk at Extrinia, Afterglow will bring you the best in music inspired by darker themes - romantic and otherwise - from new and emerging artists from around the world, as well as newly independent but established stalwarts of the genre.

If you grew up listening to bands such as Joy Division, The Cure, Siouxsie and the Banshees, and Depeche Mode (or if you've discovered you've held a long fascination with black eyeliner), Afterglow is set to reawaken your faith in music.[img]


51. H Pisces Podcast Series II -...


Alternative indie UK/Canadian rock, exclusive content from H Pisces, news, competitions and more.


52. Radio Orphans -...
A podcast from the Minneapolis based band Radio Orphans. This podcast features the best music of the Radio Orphans, along with select music from other independent artists. Hosted by Finneaus and Jaw Knee of the Radio Orphans. All Music used by permission of the artists.


53. Coup d'Taco -...
Coup d'Taco is a DJ collective that makes two-hour long, eclectic mixes for your listening pleasure.




54. Tracks Up the Tree -...
One of the first Indie Music Podcasts, Tracks Up the Tree has been reviewed "Out of all the music podcasts I've listened to, this is the first one that has played music that I universally liked" by the New Podcast Review. Adopting the unique stance of only playing music from artists websites who make their tracks available online, Tracks Up the Tree delivers to your iPod the best music to be found on the internet. All tracks have been hand picked by the host Funtime Ben for freshness and will be sure to turn you onto great music you may never have heard before. Sit back, relax, and subscribe.


55. Brainwashed Podcast -...
A weekly hour-long special from Brainwashed Radio featuring music from the numerous bands and labels hosted at brainwashed.com including (but not limited to) Coil, Godspeed You Black Emperor!, Nurse With Wound, Jessica Bailiff, Tortoise, Trans Am, Labradford, Current 93, Wire, Charles Atlas, Antony and the Johnsons, HNAS, Throbbing Gristle, Thighpaulsandra, Diamanda Galas, Cabaret Voltaire, Mirror, The Legendary Pink Dots, Mimir, Annie Anxiety, Cex, Kid 606, Stars of the Lid, and many, many more. Labels include Kranky, Important, Tigerbeat6, Intransitive, Industrial, Giorno Poetry Systems, RRRecords, United Dairies, and Brainwashed Recordings.


56. Indie Limelight Show -...
The Indie Limelight Radio Show features new music from all genres. This program is currently syndicated to over 100 AM, FM, and Internet Broadcasters with over 2-million listeners every week.


57. Tripcast Radio -...
Live(ish) from Edinburgh, Scotland - Tripcast Radio is a podcast show dedicated to independent and unsigned artists from around the world, and lots of other good music. I don't play any specific genre of music, just what I like and I hope you do to.


58. Go Little Sparrow -...
http://golittlesparrow.blogspot.com

59. Alternative Classix -...
The Internet's premier weekly radio show (www.tarsislopez.com) featuring the best in 80s and early 90s alternative rock, hosted by Chicago's Tarsis Lopez


60. Concert Previews - Seattle -...
Each week we showcase bands playing in upcoming live shows in the Seattle area.


61. Junk Podcast -...
From Swedish music publishing house JUNK, comes a podcast that lets you hear what it sounds like in a major recording studio during the sessions. JUNK also brings you interviews and much more.
JUNK is run by musicians from popbands like Brainpool and Beagle. Among the staff you''ll also find Christoffer Lundquist, who has produced and recorded artists like Per Gessle (Roxette) and Ed Harcourt.
Started: April 2005.
http://www.junkmusik.com


62. Ottawa Live Music -...

This is the only radio show in Ottawa, Canada''s capital, that features a different musician or band performing:
live on the air;
live off the studio floor;
with no taped delay;
open-line and interactive.
Listeners often calling in to speak with the guests.
This is free-style college radio at its best. The format of the show is simple: guests set up their gear (often half in the small studio and half in the hallway!) with a minimal soundcheck and then play. Host Charles Anthony controls the fun. With a shoe-string budget, the college radio station manages to do what no other radio station (nor television station, for that matter!) in Ottawa dares to do.


63. Player Hater: lo-fi indie rock podcast -...
This podcast features two to three new and unreleased songs by Player Hater, a one-man band who records all his songs in his apartment in New York City. The resulting sound is mellow folktronica, like something you'd find on the Thrill Jockey label, kind of a IDM meets acoustic singer/songwriter stuff (if Arab Strap had more of sense of humor, Player Hater would be what they'd sound like). New podcasts are posted every two weeks or so, lo-fi bedroom chamber pop for people who know that tomorrow's going to be worse than today.


64. The Mystic Mitch Show -...
Join Mystic Mitch as he shares his views on issues facing the P2P community. Each 30 minute program features great music by independent bands/artists not heard on traditional airwaves. New shows updated every Sunday evening in crisp 64k mono quality.


65. The Podtridge Family -...
Rock/Pop/Punk from three performing, multi-instrumental songwriters and recording artists all from the same family!

Here, once per week, you'll find an original tune from our "family label", The Podtridge Family

Website: http://www.podtridgefamily.org


66. The Zeitgeist Show -...
Reprogram your mind.
The mediocrity of the mainstream media has brainwashed you.
You are not a demographic. You are not a logo.
This is not about making money. This is about bringing you the best in unheard music, art, entertainment and technology.
Escape from the mainstream. Delve into The Zeitgeist Show.


67. Independent Content Networks -...
independent media:
music and discussion about indie music distribution


68. Jason Sturges Chapman Stick Works, Works Repository -...
Experimental fusion Chapman Stick works from the album Curio by Jason Sturges, Works Repository - an independent music publisher.


69. Radio Rubik -...
Uno dei migliori podcast per ascoltare buona musica indipendente scovata nei meandri più reconditi di Internet. Solo musica di qualità su Radio Rubik: la radio per menti sveglie!


70. BBC Radio Northampton - The Weekender -...
The best unsigned music from the heart of the UK with interviews, session tracks and more. The Weekender with Jon & Griff on the BBC


71. Dash Rip Rock Podcast -...
Bi-weekly show, hosted by Bill Davis, that features plenty of Dash Rip Rock rarities and never-before-heard live tracks, hilarious commentary, band news and general crazy stuff. Dash Rip Rock, established in 1984, recently signed with the Alternative Tentacles recording label.


72. Fibonaccis Video Podcast -...
The Fibonaccis Video Podcast features music (accompanied by movies) of the band's releases. The Fibonaccis rose out of the early-'80s art rock and punk scene in Los Angeles, CA. Drawing from a wide range of influences including film scores, circus music, as well as an interest in bizarre pop culture in general, the band took their name after Leonardo Fibonacci, the 14th Century Italian mathematician. The group's lineup consisted of Magie Song (vocals, percussion), John Dentino (keyboards), Joe Berardi (drums, percussion), Ron Stringer (guitar, bass), and Tom Corey (bass, mandolin, vocals). They released their first EP in 1982, as second one in 1983, and an LP in 1987. In addition, they wrote the songs for the soundtrack to the 1986 cult horror/comedy film, "TerrorVision." The Fibonaccis disbanded in 1988.


73. iROK Radio -...
iROK a weekly music Podcast featuring the best Independent music artists from Oklahoma. It's a new breed of radio.
Oklahoma''s only Independent Internet Radio Podcast.
It''s radio to go, where and when YOU want it!
Playing the best Oklahoma has to offer from the Independent music scene.
You''ll discover that Oklahoma has a soul that''s not just country.
Rock, Pop, Hip Hop, Metal & more
We''re more than just country.


74. News of the Cool -...


Show hosts Travis (on right) and Todd from <a href="http://www.newsofthecool.com" target="_blank" class="postlink">www.newsofthecool.com</a> banter about the entertainment news of the day while playing tunes from indie bands and singer/songwriters. This week, the guys salute Sub Pop Records and feature the groups Low and Saint Etienne. Artists interested in being included in a future show should email mailbag@newsofthecool.com


75. Beyond the Dial - Unsigned Bands -...
Hear great indie rock from bands playing alt country, alt rock, power pop, psychobilly and punk rock.


76. Cambridge Riffs -...
Cambridge Riffs is a new podcast radio for Cambridge (UK) bands.


www.cambridgeriffs.co.uk

77. Music 4 iPods - Rock/Pop/Alternative -...
Music 4 iPods is a podcasting site devoted to the podcasting of music from independent and unsigned bands and musicians, offering free mp3 downloads to music fans around the world.


78. NoisePod -...


NoisePod
http://www.noisepod.net
A podcast for noisy and decadent music. In french


79. Podcasting from London -...
Bringing the hottest tracks from the best non-RIAA bands!


80. .new.noise.edition -...
EMO - Hardcore - Punk
podcasting from Germany since 2004


81. Bakersfield's Buck City Podcast -...
The Buck City Podcast is the only podcast out of Bakersfield California, where strong rock and country roots come from a past that includes the likes of Merle Haggard, Buck Owens and Korn.

The show is hosted by novelist N.L. Belardes. Come and listen!

Learn about Bakersfield music, N.L. Belardes and the very creepy' Lords of Bakersfield at www.nlbelardes.com



82. hungbunny -...
Words, music, and no banter.


83. IndiePod -...
IndiePod is THE source for Indie Rock and Alternative music. IndiePod is hosted by Simon who hails from the UK.


84. Roymond Songcast -...
This podcast is made up of individual songs of mine as I release them. I''ve been accused of writing beautiful, weird, eclectic and strange music. As each song develops on its own and I pretty much follow, letting whatever happens happen, this is understandable. Much of my recent output has been for Songfight.org. On off-nights I produce the Indie Content Network podcast, featuring quality music from other songwriters.


85. WHY ME: Worst Music You've Ever Heard -...
"Worst music" is a misnomer. The Why Me podcast focuses on independent non-commercial musicians. All the music heard is created by Seth and Jessica or people they actually know (i.e. their friends). Podcasts also include theater and book recommendations.


86. HoneyFunky - The Music Rocks! -...

Honey delivers a weekly dose of rock, electronic, funk and whatever else she sees fit in her weekly airing. New exploits burst online every week - and if you think she is stopping here, you have another thing coming.


87. IndieFeed: Alt/Modern Rock -...
IndieFeed Alt/Modern Rock Channel


88. Preserves, Jellies and Jams -...
The podcast devoted to live cuts in all shapes and sizes. Join me as I settle into middle age by listening to and talking about shows instead of actually going to them.

Layin' the jam on thick!


89. The Accident Hash Podcast -...
Dedicated to showcasing the best independent music from New England and beyond!

Site URL: http://www.cc-chapman.com/hash/


90. Kens Last Ever Radio Extravaganza -...
Live improvised sound experiment, collaged while you listen.


91. The Buddy Culver Show -...
Coming to you from the bowels of the basement in Dearborn, Michigan spewing out indie rock from Motown's past, present and future along with smack on beer, cigars and sports.


92. Creot Radio -...
We are a weekly show featuring artists from around the globe. The show is hosted by musicians in a new city each week and features that city''''s local artists, creotians, wenzel''''s mom, interviews with bands, hostile takeovers by aliens and government officials, and much much more...


93. F1SH : Please dont tap the glass -...

Podcast Feed : http://feeds.feedburner.com/f1sh
Blog Feed : http://www.f1sh.net/atom.xml

Website :http://www.f1sh.net

Around 30 mins weekly Show featuring the best in Indie Rock Unsigned Music.

Broadcast from the Yorkshire Wolds , UK


94. Fred''s World -...
New podcast featuring talk and music. News (strange and bizzare), stories, poetry, humor, reviews of music, tv, films, books, and a couple songs from up and coming new artists from any and all musical styles and genres. Hosted by long-time musician/songwriter/producer/attorney.


95. marvin suicide -...
Weekly show playing 30mins of eclectic and electronic mp3s available to everyone over the internet. Its nice on your brain.


96. South Miss Music Sampler of Alternative and Rock -...
The best music south of the Delta! Featuring bands and musicians from Hattiesburg and around the state. Live performances recorded locally by Kevin Byram and others as well as studio recordings provided by the bands themselves and Garageband.com. We will also keep you updated on the Hattiesburg music scene thanks to deadmandancing.com


97. Avalanche -...
A Semi-weekly music show showcasing music in english, spanish, french and sometimes portuguese.
http://www.paquidermo.net/avalanche/


98. Concert Previews - SF Bay Area -...
Music and info for upcoming concerts in the San Francisco Bay Area.


99. Danko Jones -...
The official feed for Danko Jones Podcasts.


100. KEXP Northwest Music Podcast -...
KEXP presents full songs from NW artists.


101. Podmodernisme -...
French indie rock from Quebec/scène alterno-indépendante du Québec : provided by Rizzn's Podcaster


102. The Short Stack -...
Unisigned and Independent Artists


103. Bandhole -...
Podcast from bandhole.com


104. Kenedik -...
kenedik ''''not a loser'''' radio hour podcast deal-y specializing in indie/experimental/new folk


105. In the kitchen with Fixo and Tweebs -...
Fixo and Tweebs. Two men sitting in a kitchen on a Saturday night.
Fixo runs Mimashima Records. This is the only time he gets to listen to demos and kick back.
Tweebs has a baby daughter to look after, so he doesn't get out much these days.
And a podcast was born. A podcast dedicated upcoming and unsigned bands from across the world. Punk, rock, indie, ska, emo and more... it certainly had something.
Then life got in the way and things got shelved.
But the show lived on, floating in the ether like a satellite of sound in the silent void.
Or, rather, the two episodes posted in 2006 had received over 91,000 hits by the end of May 2008...


106. Lap Records -...
Free mp3s from UK independant record label Lap Records.
We''''re based in Bury St Edmunds, UK.
Our Roster includes: The Secret Hairdresser (boy/girl moog-driven, miaoowing indie-rock), Animal Planet (sibling fronted garage-boogie), Mr Jason (solo eclectic stuff) & The Covert Stylist (electro).


107. Luna Musings with Colie Brice -...
Experimental, eclectic entertainment hosted by Colie Brice of AERIA Records in Asbury Park, NJ.

Features interviews, commentary, and original musical talent in and around the Jersey Shore.


108. The Apparat Programme -...
New music by unsigned/independent artists, curated by writer Warren Ellis: thirty minutes, once a week.


109. Will Diehl Music -...
Reviews:

"This is a beautiful down tempo creation of one of the greatest pop/rock artists in mp3.com." (review of Dream #3) - Ernesto Cortazar

"Experience Kama sutra in action, the essence of a sand spired cathedral... must be a homage to the Gods... Beautiful melodic interplay between a fretless bass and an old world relic stringed instrument... sounds like sitar... This track brings in the early sounds of a group called Tri-Atma... melting old world music and instruments with beefy Euro-Jazz.. They were all incredible musicians, muti-faceted in every realm, as is Will Diehl." (review of ''''''''In The Shadow of the Great Cliff'''''''') - Integrated Arts VIII Radio


110. IndependentCast -...
A weekly half-hour show featuring the best independent artists from around the globe.


111. keepingitfake -...
keepingitfake gives you the inside on the week's papers, dishes out a diet of electro, and has invented a brand new culinary genre, Trash Blanc. We serve up a new recipe every week.


112. nier.podcast -...
Let's listen to new music! One artist per podcast: get to know a little about their careers (in Portuguese) and listen to their music.

Vamos ouvir música nova! Um artista por podcast: conheça um pouco sobre sua carreira e ouça suas músicas.


113. Quality Control Radio -...
Quality Control Radio offers you the best in esoteric music for those people whom enjoy tunes that usually defy easy classification. Guaranteed to expand your musical horizons. From the creator of Red Giant Radio.


114. Seether "Karma and Effect" World Premiere -...
Get a taste of Seether''s new album "Karma and Effect," which is in stores now, through this special podcast. Shaun Morgan and Dale Stewart from the band share their thoughts on tracks from the album and more!


115. Bandtrax -...
Internet radio program dedicated to independent artists


116. Bums United -...
Yeah, we should do a podcast a week or so. Enjoy.


117. Cinema du Lyon -...
A wander through the surreal world of light and love and fudge


118. Pacific Songwriting Competition -...
Pacific Songwriting Competition Podcast Show Featuring 2005 Competition Contestants


119. Rockontop Podcast -...
Rockontop.com posts the latest on music live from London, with a particular attention paid to obscure tunes, indie songs and music gossip.


120. h-track Radio -...
h-track Radio

Hugh Herrera selects a wide ranging format of music on this weekly program from San Diego, USA. A new show every Friday, 18:00 GMT. In time for your weekend.


121. Radio Free Brooklyn -...

Every Monday, two guys compile 10 songs from bands in Brooklyn and/or bands that Brooklyn's been listening to lately (at least the people we know). Every genre, every style, all good music.


122. Zoe''s Radio Show -...
A fantastic mix of new independent and old cool stuff from Zoe, a California kid in her early teens. Not just for the teen set, this is some really great music!

http://www.zoeradio.com/


123. Re:Connect Show with High Eight -...
Archive of bi-weekly 2-hour breakbeat show with Re:Connect Recordings artist and DJ High Eight. Expect fat beats, funkin' basslines, exclusives and classic from across the years, plus regular guest mixes and interviews.


124. Bowed Radio -...
Bowed Radio is a one-hour show devoted to spotlighting the talent and innovation of string players from around the world. Submissions requested!


125. Garbled -...
Podcast from the band Old Garbo featuring music, never heard before demos and live sessions together with insight into their music methodology and side-projects.[b]


126. Indie:Indie Radio's Weekly Playlist Additions -...
Indie:Indie Radio adds new songs to its ever-growing indie playlist every week. Now you can listen and hear the great additions plus learn a little bit about the talented artists behind them!

Download now, and listen to the station later!

http://www.indieindieradio.com


127. The $250 Million Radio Show -...
The $250 Million Radio Show


128. The Chemistry -...
The official feed of The Chemistry Podcasts.


129. The Deep End -...
The Deep End features music from artists that are creatively, thoughtfully, and honestly dealing with spiritual issues and themes. These artists dig below the surface to explore the deeper issues of life. Music that explores themes such as forgiveness, hope, love, sorrow, life, death, joy, loss, purpose, war, peace and faith are all examples of issues we might explore on the podcast.


130. Robbie Gennet Podcast #1: New Orleans by Nine -...
Robbie Gennet's first podcast, live on piano on Sept. 1, 2005. Dedicated to the good people and city of New Orleans.


131. Hoboken Rock City -...
Ted Leo & The Pharmacists, Robyn Hitchcock, Bloc Party, Edwyn Collins, Petra Haden, Pernice Brothers, The Wrens, The Wannadies, Mates Of State, The Donnas, Saint Etienne, The Thermals, Dramarama, The Aluminum Group, and Freedy Johnston have all recently been featured on this weekly one-hour podcast featuring glamorous indie rock & roll from New Jersey and far beyond.

New show every Wednesday.

Quote: I am subscribed! Podcrawl, April 14, 2005

www.hobokenrockcity.com


132. Modern Rock Minute Podcast -...
Don''t feel like waiting around hoping to catch your music news on the Modern Rock Minute? Wait no more. Check our new podcast of the Modern Rock Minute! Grab a podcast receiver and the MRMs are automagically downloaded onto your MP3 player for on-the-go listening.


133. RadioVillano -...
Supporting independent music en español and by Spanish-language artists - latin rock, rap, pop, punk, ska, electronica, metal, and more


134. tBoneTaxi Blues -...
''When the Thread hits the Tread''....drivin'' music! : provided by Rizzn''s Podcaster


135. Donewaiting.com Disposable Radio Show -...
Find your new favorite band here.

Site URL: http://www.donewaiting.com/podcast/


136. F*ck the RIAA -...
Shanti's pirate radio


137. I'm Smarter Than You Radio -...
Smart music for even smarter people.

This radio show features Britpop, Electronica, and classic alternative songs, in shows that are at least 2 hours long. Hit the website for complete playlists and more information.

Homepage: <a href="http://www.imsmarterthanyou.com" target="_blank" class="postlink">http://www.imsmarterthanyou.com</a>


138. NICOLA'S Live Shows -...
NICOLA and the Band perform live and archived in case you could not make it to the show! Want to feel as if you are there...then listen or watch.www.nicolanicola.com
www.myspace.com/nicola
www.nicolanicola.podomatic.com
www.nicolanyc.podomatic.com
www.youtube.com/nicolanicola
www.cdbaby.com/nicolanyc3



139. Evilushun -...
EVILUSHUN... AN INDIE AND ALT ROCK PODCAST


140. Joe Freeman Music -...
Independent music for Independent minds )))
This is the first track taken from the latest CD Personal Mountaineering by Joe Freeman.

To hear a preview of the album and to download free tracks please visit
www.joefreemanmusic.co.uk


141. Piggyback Radio -...
A radio program run by artists rather than artists run by radio. The Piggyback Radio Podcast.


142. PSFK Podcast : Mixtape Sessions -...
PSFK is a global trends blog. The delectable Hedyeh Parsia has given us a bite size selection of some of her favorite current tunes. Something we hope to make a regular feature on PSFK.


143. The Green Dragon Radio Show -...
A 2 hour weekly updated show featuring some of the UKs best unsigned bands and solo artists, with your host Green Dragon.


144. WebcasterU.com Battle of the Bands -...
This is the first TEST SHOW Please send me some feedback
A weekly show will be available starting OCT 1 2005



The Carnage Begins OCTOBER 1st 2005


145. AIRadioPodcast - Uncommon Knowledge -...
Uncommon Knowledge is an AIRadioPodcast that features all original ALL independent MUSIC and TALK. We do not seem to really fit well into any category - but we do the best we can with the categories offered! The music: an ecclectic mix of ambient, acoustic, instrumental, progressive electronica, trance, meditative-instrumental, alternative vocal and morel. As long as it speaks to the best in us that is human...you will find it here. The TALK comes in 2 flavors. (1)Uncommon Knowledge On The WeekENDS: hosted by two independent musicians ==> Andi Mac and Jai. The weekend shows contain a mix of Music, Talk and Interviews with some very cool people who are artists in their own right (including of course musical artists!). Everything alternative! Packed with insights that defy explanation. You have to hear it to ''get it''. (flavor 2) Uncommon Knowledge On The WeekDAYS: Hosted by Andi Mac, currently features "music picks of the day" along with an esoteric training session on The WAY of Intelligence! The core message? Waking up and living LIFE. Of course it has to be alternative healing, loving and living for human beings ready to live it REAL -- All UNDER-THE-RADAR information you can use right now and most likely have never heard anything like it before.


146. The Sound -...
The Sound is the official fortnightly podcast of www.theset.co.nz. Hosted by the pirate of the digital airwaves, Spanky Moore, The Sound asks New Zealand's top musicians and oddfellows the questions no one else would dare. And we push our guests way beyond their comfort zones just to see what it takes to make them crack under the pressure of bizzare and personal questions. We know no boundries and have no respect for any of our guests, no matter how famous or good looking they might be. Of coarse it's no all wild shananigans. The Sound plays only the freshest tracks from New Zealand's coolest bands - rock, hip hop, punk, metal, whatever - if it kicks arse we'll play it. Plus info on up coming gigs, whats happening in the surf and snow scene, free stuff, music news and the latest on the SmokefreeRockquest and SmokefreePacificabeats band competitions. AND, we cover all this in under 30 minutes flat! The Sound is the shit, so get downloading and let the good times begin.


147. Alien Theater Radio -...
A 30 minute show highlighting the best in podsafe Progressive and Instrumental Rock music.


148. iCast - Music Podcasting -...
Music podcasts from record labels around the world presented by Gill Mills. Featuring labels like Wichita and Breastfed.


149. LobeCandy Records -...
Singles Podcast from LobeCandy.com


150. The Orange Peels: Lost in Orbit -...
Follow critically acclaimed California popsters The Orange Peels as they try to record their third indie-rock album. Includes narration by singer-songwriter ALlen Clapp and home demos and dramas leading up to the recording of the group''''''''s west-coast pop masterpiece, "Circling the Sun." Part storytelling, part musical broadcast.


151. Wichita Recordings -...
Music podcast featuring acts from the Wichita Recordings roster with Gill Mills. Listen to the latest releases from Bloc Party, The Cribs, Kid 606, Bright Eyes, Espers. Exclusive competitions, interviews and pre releases. This month WIN Bloc Party's Silent Alarm Remixed!


152. Concert Previews - LA -...
Each week we showcase bands playing in upcoming live shows in the LA area.


153. Living Jane Podcast Series -...
This is Podcast One in the Living Jane Series from SKS Music. An introduction to the improvisational music of Living Jane, operatic, rock, genius. Make up your own mind!


154. Not Work Safe Radio -...
Not Work Safe Radio Podcast for the masses!


155. Sintiempo ene el aire -...
A D.I.Y. hardcore punk show broadcasted on "la kehuelga radio libre 102.9fm" a free radio 100%diy, in the south of mexico city.

http://kehuelga.org/~sintiempo/


156. Spacepod - the podcast from Spacelab -...
.



Spacelab is an indie magazine about indie rock, alternative, electronic, and experimental music. Check out the podcast for music news and interviews with bands like Autolux, Parker & Lily, and Experimental Hypothesis.

Also visit the web site for more great music news, multimedia features, Spacelab Radio, and more.
<a href="http://www.thespacelab.tv" target="_blank" class="postlink">http://www.thespacelab.tv</a>
.


157. st. pauli podcast -...
excellent Podcast from Hamburg - St. Pauli, with Alternative & Independent Music and some concert-news from Hamburg !


158. Dave Howard - Monthly MusicTalk -...
News, insights and music from San Diego artist Dave Howard. Get the latest scoop on upcoming shows, new and re-issued songs and Dave's unique perspectives on songwriting, life and the universe.
Monthly muisc newsletter from San Diego artist Dave Howard


159. Nicole Sandler - Radio Or Not -...
Nicole Sandler brings back highlights of Los Angeles'' legendary KSCA with exclusive Music Hall interviews and performances!


160. Wicked Radio -...
FM broadcast station with a Wicked Couple of Podcasts 79 episodes to be exact with a daily show and a few weekend editions and more in the works. http://wickedradio.org is the main page.


161. Mashup -...
the Show about well anything I like, but mainly bootleg/mashups. If you don''t recieve a show for a while it''s not because I''ve stopped, it''s simply cause I havn''t done one yet

162. Radio Green Siouxland -...
Sioux City's hottest station is not on your FM-dial! Radio Green Siouxland features the hottest independent bands from in and around Sioux City, Iowa.


163. Stolen Mix Tapes -...
The True Mix


164. The Best Radio You Have Never Heard -...
For those who know what radio should or could sound like or for those who do know Jack !
Compiled and Mixed/Edited by Perry Bax/Chicago/USA


165. The Nexus: What Radio Should Be. -...
The Nexus features music that is beyond eclectic: new, old, obscure and mainstream. Each week is a new experiment in sound. Striving to bring you varieties of music you will not find anywhere else.

Combine a love of the weird with classic rock, hip-hop, drum & bass, experimental, standards, cartoon theme songs and bossa and you start to get an idea of what this is all about. Good music my friends, all good music.

Grab the current Podcast or learn about previous shows here: http://thenexus.libsyn.com


166. paraMORE -...
paraMORE is a twice-weekly podcast dealing mainly with the appearances, music, tours, and info of the alternative-rock band Paramore.

paraMORE: The greatest Paramore podcast EVER! We\\\'ll have you singin\\\' "Whoa!" in no time!



167. Lowco. Labs Digital Transmissions -...
experiments in audio, video, code


168. PodSoniX -...
Smo-o-o-o-o-kin'' Pod Safe Music! All independent music - ALL the time! "Pod SoniX" is an Independent MUSIC pod cast show that features stunningly talented independent artists you''d like to get to know. Bands, singer/songwriters too. This show features interviews with the artists as well as spinning their music. A show for independent music lovers.


169. Under The Radar -...
Under the Radar is a weekly indie music show dedicated to bringing you new music suggested by listeners like you.

Check out our homepage at http://whvn.blogspot.com


170. FILTER MagCast -...
FILTER Magazine presents MagCast. It's what you get when a couple of Filter staffers find a mic and a mixer, barricade themselves inside the CD closet and banter about their favorite music of the moment on their lunch break. Expect off-the-cuff, thrown-together pirate DJ sessions coming live from the humid confines of the Filter offices in Hollywood as well as members of our favorite bands droping by to guest host or just share some great music.


171. Take Warning! -...
Punk Rock, Psychobilly, Alternative...It''s all here for your listening discomfort! From the influences (The Clash, Damned, Sex Pistols, Ramones, NY Dolls) to the those under the influence (The Casualties, Leftover Crack, Flogging Molly) "Take Warning!" runs the musical gamit. Also, there will be some alternative gems thrown in just to keep the listener on his/her toes.

Subscribe or die.

~ross
www.kissingcorpses.com


172. The Catbirdseat -...
Monthy mixes. Indie rock and stuff. No inane banter. You know.


173. The Giraffes -...
The official feed for The Giraffes Podcasts.


174. Wiretap -...
Curated, rare punk records from 1978-1982. This is NOT intended as a resource for record collectors, but rather a place where fans of the genre can pick up examples for personal listening.


175. Great American Music Hour -...
Podsafe indie rock, folk, singer songwriter and Americana music show featuring bands and artists from Richmond, Virginia, and around the country, with host Jerry Jodice


176. Heavy Syrup -...
Heavy Syrup is a show from Vermont centering on Vermont's diverse music (it's not all bluegrass, you know, we can rock too) and occasional segments on local politics and food.


177. Over Thought Interrupt -...
New and obscure indie music that you must hear. An emphasis on Chicago projects from the past ten years this show will act as short little sojourns as you tiptoe through your podcasts.

Site URL: http://www.thefeedlot.org/overthought/index.php


178. All Florida Indies -...


All Florida Indies is a weekly podcast devoted to the music of unsigned Florida bands. This free-format program, hosted by respected music journalist and performer Bing Futch, plays a mixture of new and classic tunes with an emphasis on the songs and NOT the chatter!


179. Noise Is Music -...
Free independent electronic music from the depths of the internet. Be sure to check the website as well for links to legal downloads of all the music featured on the podcast!


180. Pitchfork Free Music Downloads -...
Free, legal music downloads from www.pitchforkmedia.com


181. SMtv -...
A Podcast Dedicated to True, Independent Artists.
"That ideas should freely spread from one to another over the globe, for the moral and mutual instruction of man, and improvement of his condition,seems to have been peculiarly and benevolently designed by nature, when she made them, like fire, expansible over all space, without lessening their density in any point, and like the air in which we breathe, move,and have our physical being, incapable of confinement or exclusive appropriation."
- Thomas Jefferson, 1813


182. 4WAYSTOP -...
4WAYSTOP [b]
Helps new bands exposure and exposes our listeners to new music.
www.4waystop.com[url]


183. Staccato -...
Features a wide range of new, independent music, all available under Creative Commons licensing.


184. the post-radio podstop -...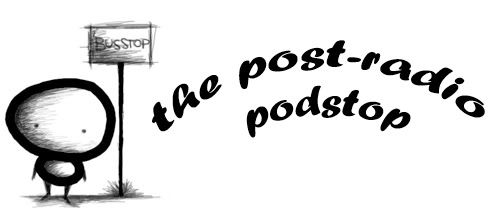 for anti-mainstream music fans.


185. Superburst Mixtape -...
New music made freely available on the net by the artists, curated by Warren Ellis


186. QuickieCast -...
Worthwhile thoughts and interviews on cars, music, video games and the law. Something for everyone. And you get a free song everyday. I guarantee you will love our music or you get a full refund!!!!!!!!

www.quickiecast.com


187. IndieJukeBox -...
I created this podcast to bring back together all the artists that were part of IndieJukeBox.com. My goal is to talk with them during the podcasts about what their experience was being on the site and were they feel it needs improvement.


188. Sam Champion -...
The official feed for Sam Champion Podcasts.


189. Positive Podcast -...
Positive Podcast

Music from Nor Cal artists and beyond. Supporting independent artists all over. From acoustic to rap. Anything goes as far as the music is concerned. Please join us.


190. The Friendly Fire Radio Show -...
A weekly radio show hosted by politi-pop rockers and featuring news, music, satire, and more!


191. Music from the Edge -...
Cutting edge ambient sounds with dashes of rock, jazz and movieola. Single composer/producer/musician cutting his way through the mundae realm of everyday music. Want a breath of fresh air? Somethig completely in a class by itself? Then give this a listen!


192. The Unsigned Rock Zone Podcast -...
This Podcast is a showcase for the bands/artists at the Unsigned Rock Zone. URZ is a new Independent Rock music community. We are dedicated to unsigned, under the radar, independent Rock music. The site is loaded with cutting edge features & musician resources,such as music/video streaming & downloading, event callandar, artist blog, paypal store & much more. ALL Unsigned Rock Zone artists are eligible for the URZ Podcast.